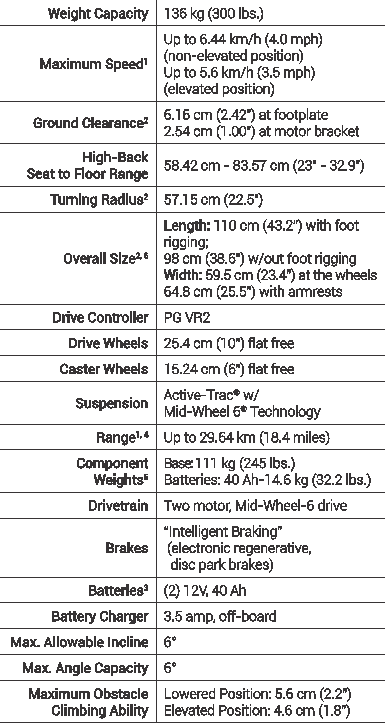 1) Varies with base model, user weight, terrain type, battery amp hour rating (Ah), battery charge, battery condition, motors, controller type, tyre type, and tire condition. This specification is subject to a variance of +10%, -5%.
2) Due to manufacturing tolerances and continued product improvement, this specification can be subject to a variance of (+ or -) 3%.
3) AGM or Gel-Cell type required. See VI. "Batteries and Charging."
4) Tested in accordance with ANSI/RESNA, WC Vol. 2, Section 4 & ISO 7176-4 standards. Results derived from theoretical calculations based on battery specifications and drive system performance. Test conducted at maximum weight capacity.
5) Battery weight may vary based on manufacturer.
6) Dimensions listed are for power base only. Overall measurements will vary based on seating and accessory selections.